Structure
The study program BA UCD (Hons.) starts with semester SE01 to 04 of the HF ZUB. These first two study years count towards both, the HF ZUB degree program as well as the BA UCD.
The transition into semester 05 marks the start of the B.A. relevant modules (05, 06 and 07) that will continue until the end of the program and require the students to have handed in their proof of English level B2, which is necessary to be accepted for the so called top up semesters.
Upon successful completion of semester 06, the HF degree is awarded and having successfully finished SE07, the students receive their BA diploma.
Semester 07 only consists of the B.A. dissertation and exclusivly regards those students that have been admitted to the B.A. UCD program. It starts in September and finishes with the submission of the B.A. dissertation in March. All other six preceding semesters are designated for both HF ZUB and BA UCD students. Overall, it consists of 15 weeks study time with fixed daily schedules from Monday to Friday (between 09.00am and 05.30pm). It also includes a couple of weekend dates reserved for seminars.
All other six preceding semesters are designed for both HF ZUB and BA UCD students.
Study Program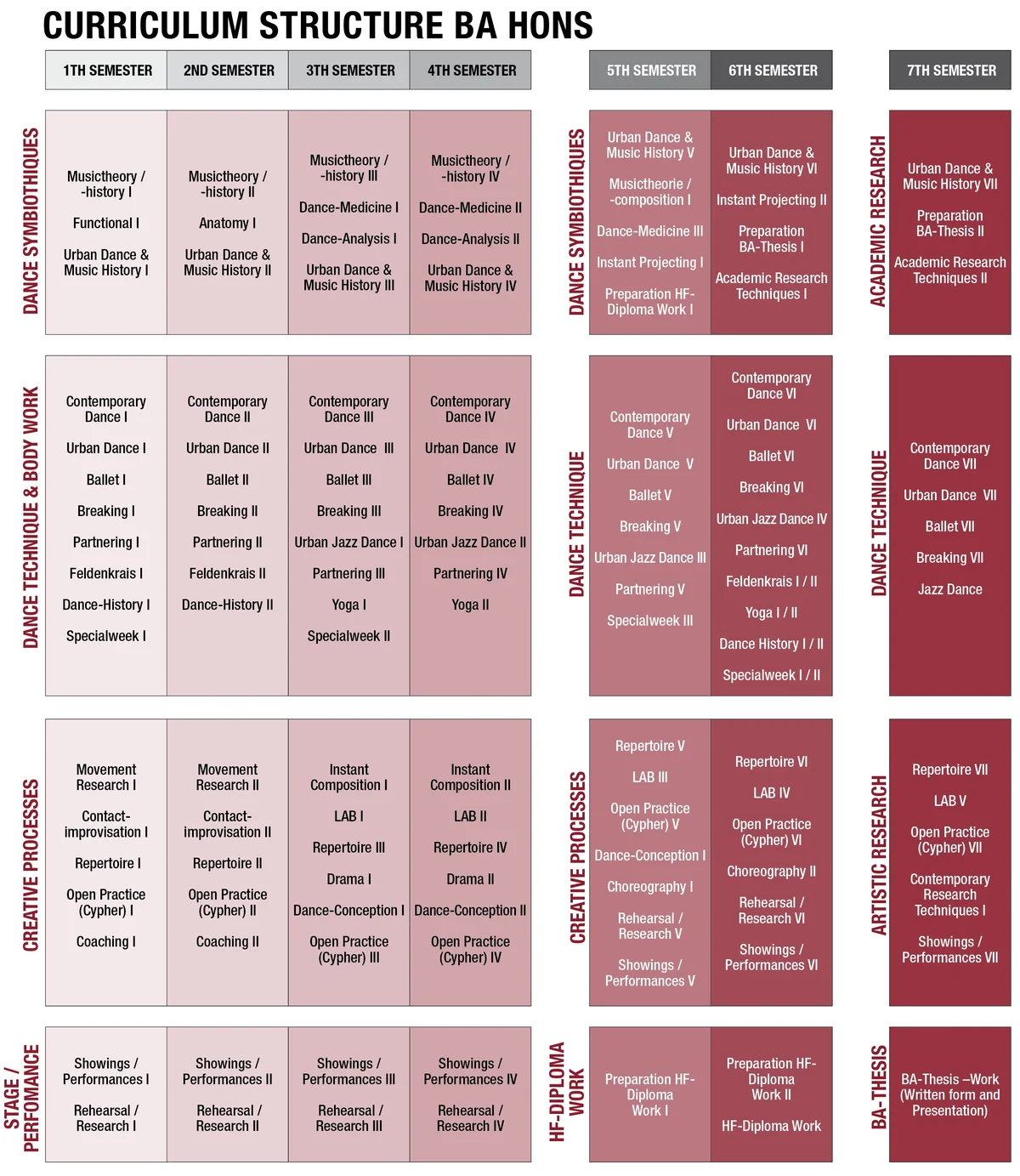 Duration
The B.A. UCD program comprises 7 semesters.
SE01-04:      Basic Studies HF ZUB
SE05-06:      Graduation semester HF ZUB / BA UCD top up semesters
SE07:           BA UCD top up semester & graduation
Bachelor Thesis
While writing their B.A. thesis students do not only acquire further specific practical and theoretical knowledge, but also get the opportunity to explore the limits of their own interpretive potential by theoretically and practically by applying research methods referring to dance practice and training as well as to other reflective, analytical and media aspects.
In general, the B.A. dissertation is supposed to give an insight into the experience and knowledge, the students have acquired during their three and a half years of studies.
It is designed to provide a platform where students can present their technical background, dance skills and artistic talent as best as possible.
The B.A. dissertation shows an independent picture of their acquired knowledge and views in a portfolio work, which is presented independently by the student at the end of the course in form of a final examination.
Degree
Bachelor (Honours Degree) Urban and Contemporary Dance
Internationally recognized diploma rewarded by the university of West London.
Scope
According to the English system, the BA UCD (HONS) study program contains 210 ECTS and 420 credits.
Tuition Fees
Semester 01 – 06:
Swiss students receive contributions from the canton.
Therefore, the annual fee for students from Switzerland is CHF 10,300. This amount can be paid in installments. 
For students who are not from Switzerland, annual tuition fees are CHF 19'500.-.
Semester 07:
Tuition fees for students from Switzerland as well as from abroad are CHF 9'500.-
Association of friends of the HF ZUB
For talented students who require financial assistance, there is the possibility to apply for financial support at the association of friends of the HF ZUB.
Scholarship Entitlement
Since March 2015, HF ZUB students that are eligible for scholarships can apply for financial support. Scholarships can cover both educational costs as well as living expenses. The amount of the scholarships is calculated individually and depends on various factors (i.e. taxable income of the parents, assets, etc.). Regulations are set by the responsible canton.
Students who need financial support from foundations can directly contact the school's director, Frank Rutishauser.