The Wild Ones IX - Performances HF ZUB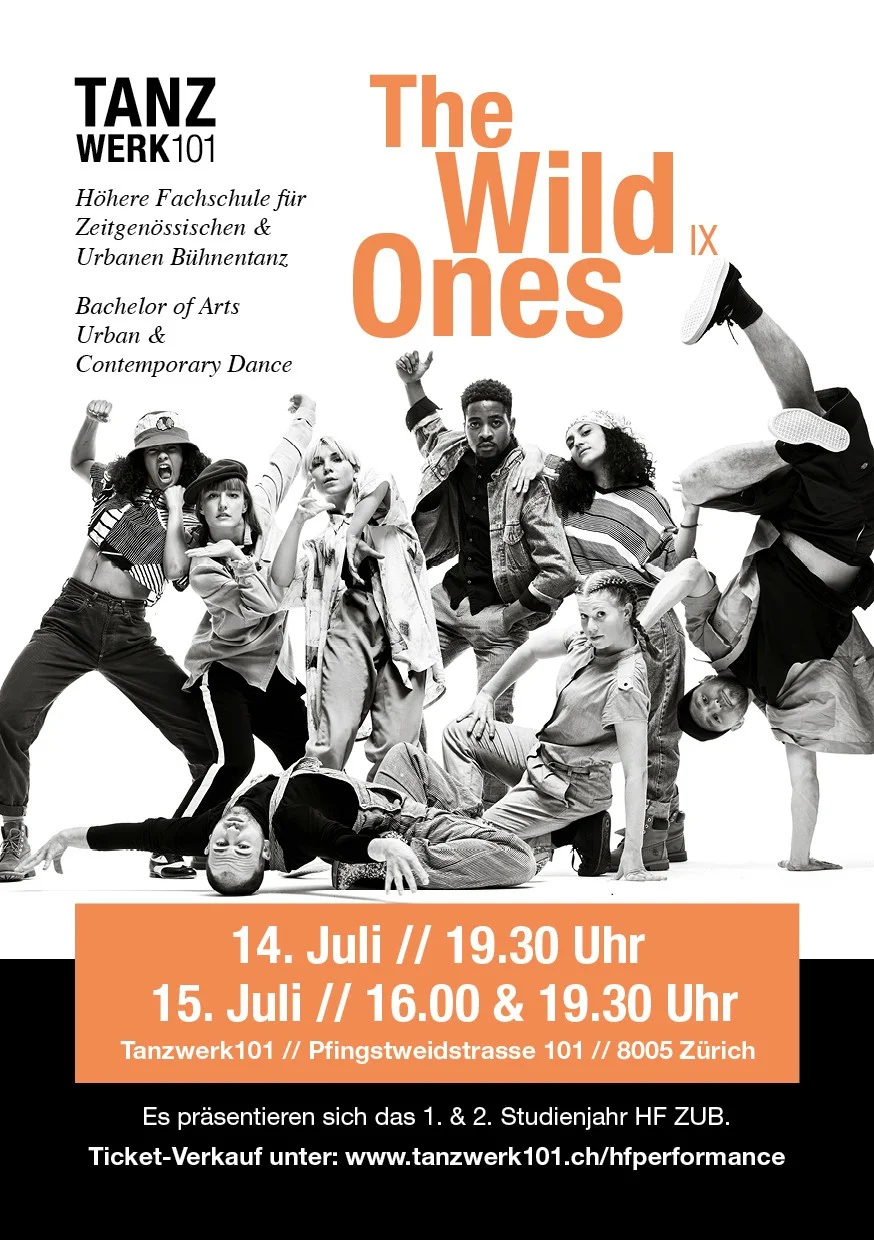 This year's 1st and 2nd year students of the Höheren Fachschule für Zeitgenössischen und Urbanen Bühnentanz will present themselves in several choreographies of the academic year 2020/21 in various choreographies.
The two years of study will present works by the choreographers:
1st Study Year:
Michael Langeneckert, Diego de la Rosa und Cédric Gagneur.
2nd Study Year:
Victor Rottier, Elsa Couvreur und Paula Lansley.
Students 1st Study Year:
Benz Vanessa, Boz Michela, Haller Laura, Hochuli Elisa, Kurz Sarah, Manger Magdalena, Michailov Maria, Müller Tanja, Pernet Colleen, Rogantini Sarina, Ruhstaller Andrea und von Werdt Fanni.
Students 2nd Study Year:
Arias Morera Raquel, Barreto Mariel, Brügger Chantal, De Paolis Rubina, Elsig Larissa, Gerber Sophie, Guignard Aurélie, Julio Barrera Luis-Felipe, Marti Sheela, Morales Tomaz Mariana, Morandell Vanessa, Niklaus Anya, Porquet Clément, Saiz Laura, Schneider Léa, Sieber Yvonne, Tullii Clara, Waldburger Robin, Werder Sofia und Whitehead Ladina.
Principal:              Frank Rutishauser
Artistic Director:   Jochen Heckmann
Prices
CHF 20.00
CHF 15.00 (with ID for students, Seniors with OASI ID, Dance professionals, Children under 12 years)
Ticket sale:
14th July 2022 at 19:30 Uhr: https://eventfrog.ch/HF-Performance_14July2022_1930
15th July 2022 at 16:00 Uhr: https://eventfrog.ch/HF-Performance_15July2022_1600
15th July 2022 at 19:30 Uhr: https://eventfrog.ch/HF-Performance_15July2022_1930